This is about my anime story. It is Monster Slayer.
This is an anime story that I wrote. Its about world of High School DxD world with a new spin. It starts with a boy and girl who is from God and wife of Satan with premission from Satan. That where Holy Demons start for a new hope to end the wars with Angels, Fallen Angels, and Demons. The boy and girl were brother and sister but they will marry latter. The peace of the Holy Demon was banished from God. Now God will try if again with his son and girl. He will let his son to be God of the Holy Demons because he believes he will change the face of the Holy Demons.
• For my side of my character story: my team: Jonathan(King), Grace(Queen and my 1 wife), ,Teo(Rook and Nekomata sister),Keo(Rook and Nekomata sister),Brian(Knight),Cooper(Knight),Penny(Bishop and my 2 wife(Nekomata)),Morgan(Bishop),Bran(Pawn),Cian(Pawn),Liam(Pawn), and Eva(Pawn). My 10 Bryant memebers: Heather, Mary, Toni, Sophies, Meg, Corwin, Cole, James, Bruce, Scot, and Patti(ex-girlfriend of mine). My remaining Black Fang Kir members: Peta(brother 1), Hiro(brother 2), Sarro(brother 3), and Kaneki(brother 4). The evil side: Mizu(God of Death), Brandon(Demon Master King),Emily(Demon Master Queen), Salem(Grim Master Queen), Ozpin(Grim Master King), ,Robyn(Ghouls Master Queen), Mike(Ghouls Master King), Sandra(Vampire Master Queen), Dent(Vampires Master King), Bellamy(Goblin Master Queen), and West(Goblin Master King). More of my enemies: Choas Fire(Part of Choas Brigade), Chaos Flame(Choas Brigade), Eternal Fire(Rivals to Punisher/Bryant), and Enternal Flames(Rivalsto Punisher/Bryant). My good friends and old friends:Yuri(Nekomata), Natsuki(Nekomata), Sayori(Nekomata), Zenaida(Nekomata), Kate(Nekomata), and Cama(Fox girl). Good Pharoh and Bad Pharoh: Jogo(Former Holy Demon God) and Jigo(Sorcerers of Evil). The Forbidden People: Maria and Jaun. Penny Evil Sister: Shein(Nekomata). Forbidden Dragon God: Destroyer(Killers of Dragons), and Doom(Dertroyer of Dragons and World). Banished Heavenly Dragons: Legendary Dimaond Dragon(Killer-Holiest Heavenly Dragon), Legendary Golden Dragon(Brian-Rival of Diamond Dragon), Legendary Red and Black Dragon(Joey), Legendary Silver-Red Dragon(Yugi-Rival of Legendary Death Eater Dragon), Legendary Death Eater Dragon(Pluto-Satan Heavenly Dragon), Legendary Silver Dragon(Conor), Death Eater Dragon(Hade-Rival of Silver Dragon), and Legendary Red Dragon(Ryan-Rival of Red and Black Dragon). Old Rival Dragon: Ender Dragon(True Rival to Holy Dragon). King of 6 Elment: Pow(Monster that Master the Elements). User of Dragon Power: Holy War Knights(good), Holy War Maiden(good), Evil War Knights, and Evil War Maiden. Dragon Swords: Holy Demon Dragon Excalibur, Holy Excalibur, Holy Dragon Slayer Excalibur, Evil Demon Dragon Excalibur, Evil Excalibur, Evil Dragon Slayer Excalibur, etc.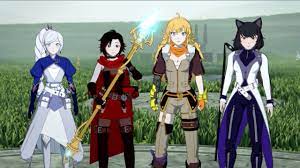 This is RWBY and the characters:
•Ruby Rose(sisters of Yang),
•Weiss Schnee,
•Blake Belladonna(faunus),
•Yang Xiao Long(sister of Ruby)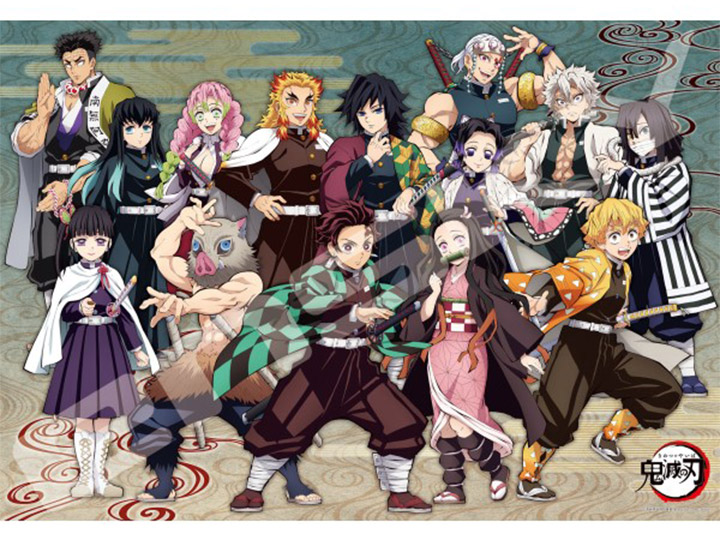 This is Demon Slayer and the characters:
•Giyu Tomioka(Water Hashira),
•Mitsuri Kanroji(Love Hashira),
•Obanai Iguro(Serpent Hashira),
•Sanemi Shinazugawa(Wind Hashira),
•Gyomei Himejima(Stone Hashira),
•Muichiro Tokito(Mist Hashira),
•Shinobu Kocho(Insect Hashira),
•Kanae Kocho(Flower Hashira),
•Kyojuro Rengoku(Flame Hashira),
•Tengen Uzui(Sound Hashira),
•Kanao Tsuyuri(Flower Breathing),
•Tanjiro Kamado(Water Breathing and Sun Breathing),
•Zenitsu Agatsuma(Thunder Breathing),
•Inosuke Hashibira(Beast Breathing).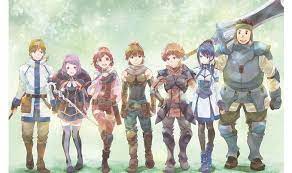 This is Grimgar and the characters:
•Ranta(Dread Knight),
•Mary(healer/Priest),
•Yume(Hunter),
•Mogzo(Warrior),
•Shihoru(Mage),
•Haruhiro(Thieves)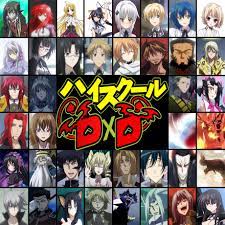 This is High School DXD and the characters:
•Rias Gremory(King of her(Demon),
•Akeno Himejima(Queen of Rias(Demon),
•Issei Hyoudou(Pawn of Rias(Demon and Dragon Emperor),
•Koneko Tojo(Rook of Rias(Nekotama and demon),
•Asia Argento(Bishop of Rias(Healer and Demon),
•Yuuto Kiba(Knight of Rias(Demon),
•Xenovia(Knight of Rias(Demon),
•Gasper Bloody(Bishop of Rias(Demon and Vampire),
•Ravel Phoenix(Demon),
•Rossweisse(Demon),
•Ingvild Leviathan(Demon),
•Sona Sitri(King of hers(Demon),
•Tsubaki Shinra(Queen of Sona(Demon),
•Genshirou Saji(Pawn of Sona(Demon),
•Momo Hanakai(Bishop of Sona(Demon),
•Tsubasa Yura(Rook of Sona(Demon),
•Tomoe Meguri(Knight of Sona(Demon),
•Reya Kusaka(Bishop of Sona(Demon),
•Ruruko Nimura(Pawn of Sona(Demon),
•Bennia Orcus(Knight of Sona(Demon),
•Loup Garou(Rook of Sona(Hydrid Demon),
•Vali Lucifer(Demon and White Dragon Emperor),
•Bikou(Monkey part of Vali's Team),
•Kuroka(Nekotama and Bishop of Vali),
•Fenrir(Giant Wolf and part of Vali's Team),
•Arthur Pendragon(The Strongest Holy Sword User and part of Vali's Team)
This is High School DXD and the characters:
•Le Fay Pendragon(Witch and part of Vali's Team),
•Gogmagog(Golem and part of Vali's Team),
•Sirzechs Lucifer(King and Demon),
•Ajuka Beelzebub(King and Demon),
•Serafall Leviathan(King and Demon),
•Falbium Asmodeus(King and Demon),
•Sairaorg Bael(King and Demon),
•Zeoticus Gremory(King Duke of Gremory and Demon),
•Venelana Gremory(Duchess of Gremory and Demon),
•Millicas Gremory(Son of Zeoticus and Pure-Demon),
•Grayfia Lucifuge(Queen of Zeoticus and Demon),
•Tannin(Dragon King (Former),
•Azazel(Governor General (Formerly)(Fallen Angel),
•Baraqiel(Vice Governor General Cadre),
•Michael(Leader of Angels),
•Gabriel(King of Hearts(Angel),
•Angel(Brave Saints(Angel),
•Irina Shidou(Archangel Michael's Ace),
•Great Red(True Red Dragon God Emperor),
•Ophis(Infinite Dragon God),
•Ddraig(Red Dragon Emperor),
•Albion(White Dragon Emperor)